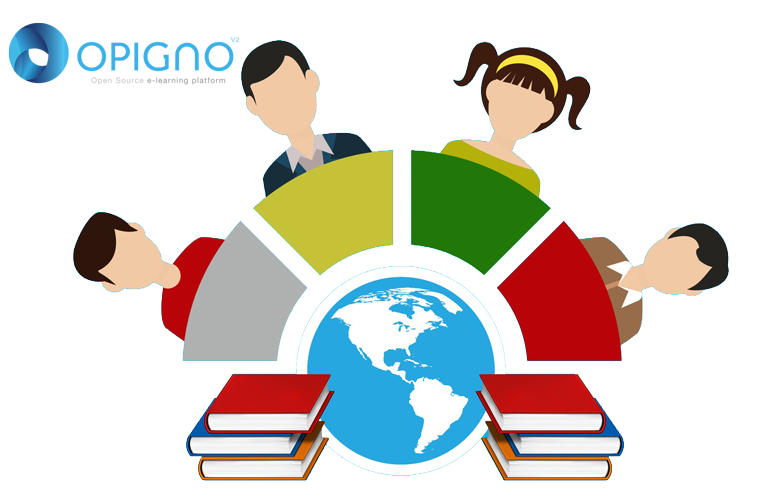 Opigno is a robust open source learning management system (LMS) based on Drupal. Opigno 'allows you to manage your online trainings, and efficiently ensure that student, employee and partner skills remain up to date.' Opigno LMS is a flexible and scalable e-learning solution designed for companies, corporations, universities, training/vocational institutes and anyone. It helps to create learning paths tailored to the goals of your learners.
Let's take a look at the features:
Roles management:
Flexible access control, based on roles.

Default roles include: student, teacher, class' coach, content manager, user manager, and administrator.

Add as many as you want, using fine-grained control over what each role can do (or not) on the platform.
Training management
Training catalogue with public/private trainings

Online training management (theory / quiz modules)

Instructor-led sessions management (This is a way to track offline training activities - like an instructor-led class held in some venue - within your LMS. You can track attendance and score attendees as part of a defined learning path with other online activities. This helps to keep all activities captured in the LMS.)

Virtual classroom sessions management

Adaptive learning path management, where training materials will be adapted to every student according to his/her previous achievements and some conditional rules

Guided training creation wizard

Graphical learning path manager tool

Fine-grained content management inside trainings, with courses, modules, and activities

Rich and powerful content authoring tool, allowing to create interactive and engaging contents

Training prerequisites: make your students finish one training before getting access to the next one, or use entrance test for trainings

Learners can earn badges after completing, or completing with success, courses or course modules.This is a way of motivation, fun and engagement.

While creating a training, you can define competencies that trainees must achieve, by way of activities, in order to develop and acquire certain skills

Automatic PDF certificates generation when successfully completing a training.
Global tools
Customizable dashboard for every user (you can move blocks to positions unique to you and add extra blocks for yourself if you wish to)

Global calendar that consolidates for each users all the events related to the courses he is member of

Collaborative messaging tool (discussion threads)

Achievements page allowing to quickly get track of achievements
Tools inside trainings
Document and media gallery

Forum (you can enable a discussion forum per training)

Collaborative workspaces (available at an additional paid service; a free version with limited capabilities is available.)
Collaborative tools
The three main perspectives are:
1. Collaborate more efficiently inside collaborative workspaces, whatever your project, its duration or size, for academic or professional purposes. 
2. Easily communicate between learners and trainers, colleagues and clients. 
3. Create documents in a collaborative way, discuss through live meetings.
Here are the  features:
File/Document Sharing and Viewing
Multiparty Messaging
@Mentions, Favorites & Emoji Support
Share Screen from any device
Share documents and whiteboard with all Meeting Members (using any of the annotation features)
Ability to Record and Share Meetings
Ability to save annotated files
There is a first-time 30 days trial to use the collaborative tools after which the monthly price per user is USD 12 to continue to access the collaborative workspaces. This charge pertains only to the collaborative tools and no other part of the LMS. If we install the LMS for you, there are no limits other than the limits on your web server, you still have collaborative features like the messaging system and the per-training forums available without limits and any charges. Creating trainings, courses, modules and activities are free for life and no limits on number of students and learners you can have per training and on the LMS. You basically own the LMS to do whatever you like with it, it is open source.
E-commerce
E-commerce capability allowing to sell subscriptions to trainings 
Integration
Apache Solr integration

LDAP (Active Directory) and CAS integration

SCORM 2004 compliant - SCORM is a set of technical standards for eLearning products that makes for interoperability between LMSes. If an LMS is SCORM conformant, it can play any content that is SCORM conformant, and any SCORM conformant content can play in any SCORM conformant LMS.

Tin Can (xAPI) compliant - The Experience API expands on the capabilities of SCORM to track learner behaviour outside the learning object. The API has capabilities to track mobile learning, simulations, virtual worlds, serious games, real-world activities, experiential learning, social learning, offline learning, and collaborative learning.

Certified LRS: Learning Locker, Watershed - Learning Locker is a conformant open source Learning Record Store (LRS); a type of data repository designed to store learning activity statements generated by xAPI (Tin Can) compliant learning activities. Watershed LRS is a learning analytics platform that provides actionable insights from your learning or performance data.

H5P compliant - H5P (short for HTML5 Package) makes it easy to create, share and reuse HTML5 content and applications. With H5P, authors may create and edit interactive videos, presentations, games, advertisements and more.
Security
Integration of 2 factor authentication (OTP, Google Authenticator) 
Mobile application
A mobile application (Android and iOS) is available in order to continue your trainings, stay in touch with your Opigno community and keep track of your achievements from your mobile device. This mobile application provides features specifically tuned for mobile (offline data, push notifications, etc.).
In concluding
If you need to take your training and learning activities online, I recommend you try Opigno. The solution is flexible so it will fit if you are a school, a company, a non profit, a vocational school, a university or higher institution, or an individual. And it does not matter the size of your students and learners.
At Skillmatic we are seasoned web designers specializing in Drupal and we are ready, willing and able to set up your self-hosted instance of Opigno. We will handle all technical work and tailor the application to address your specific needs. If you need a flexible and powerful LMS you can design to your specification, give us a call today.
Last updated: May 20, 2020